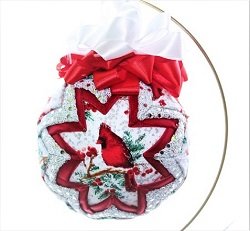 This quilted fabric star cardinal christmas ornament makes a great gift or home accent for any home decor! After all "when a cardinal is around an angel is amoung us" as the old saying goes.
It is made with fabric that has a winter cardinal and silver metallic dots on it. That is surrounded with a silver sequin and maroon silk fabric that matches perfectly together! It is surrounded with red ribbon and embellished with 2 mm silver beads. It is topped off with a red & white satin ribbon bow!



Measurements of completed ornaments:


* Approx. 3 7/8" in diameter and hanger varies in length from 2" to 4" depending on if design.


The materials used on the ornament:


*3 7/8 " diameter Smooth foam ball
* Fabric (cotton/polyester/rayon)
* 1 7/16" dressmaker pins
* 5/8" ribbons
*2mm beads