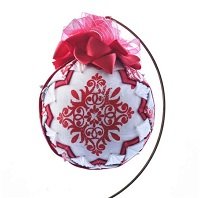 This folded fabric star ornament makes a great christmas tree ornament, tree decoration, christmas decoration, holiday decor for any tree. Put it on an ornament holder or in a shadow box and you have a year round piece for any home decor, wall art or home accent. It is made with a red star fabric and surrounded with a shimmer white and red solid fabric set to a 16 point star. It is than layered with more red & white star fabric. The ornament is finished with red & gold ribbon and embellished with red sequins and 2 mm gold beads. It is topped off with red satin & red/gold ribbon bows.
To hang the ornament from an ornament hanger or a shadow box it is best to hang it from the bow and not the hanger. The 8x10 shadow box has a whitewash finish and the 5x7 shadow box is unfinished.
Measurements of completed ornaments:
* Approx. 3 7/8 in diameter and hanger varies in length from 4" to 6 "depending on if design.
The materials used on the ornament:
*3 7/8 " diameter Smooth foam ball
* Fabric (cotton/polyester/rayon)
* 1 7/16" dressmaker pins
* 5/8" ribbons
*2mm gold beads
* red sequins